Delivering Game Changing Food Service Solutions
Club Car and Gallery Carts Partnership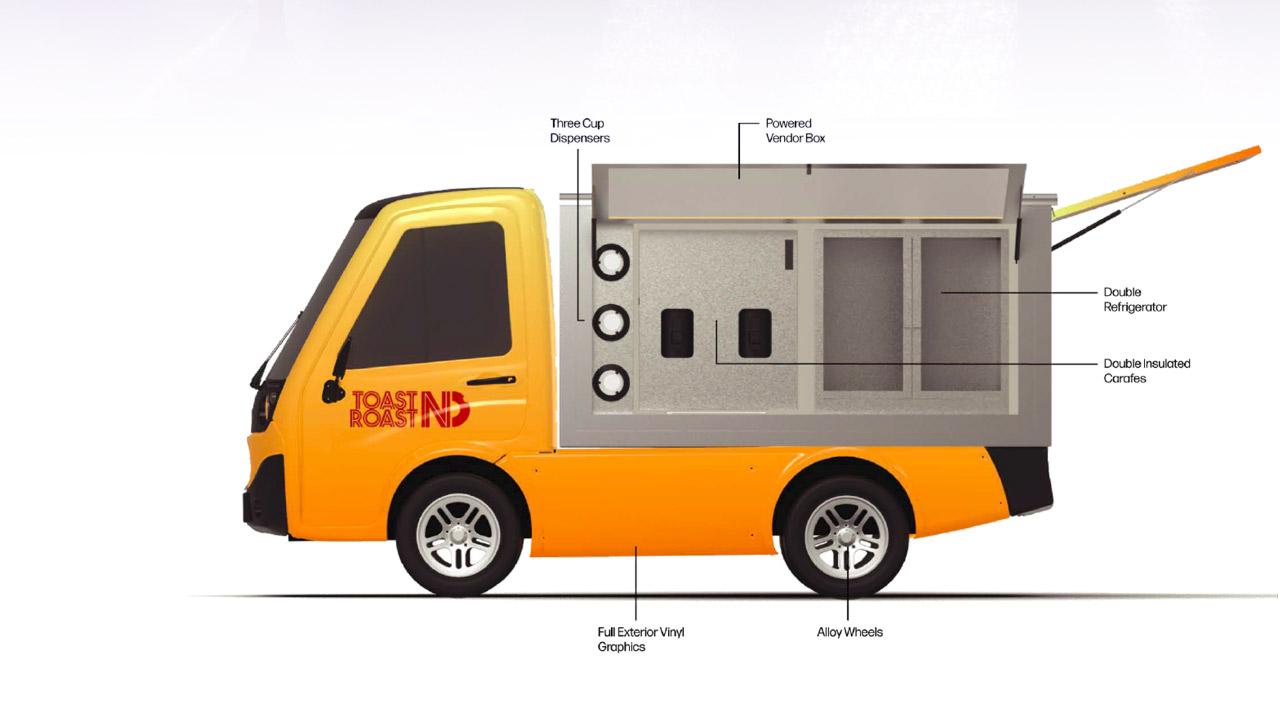 Food vehicles have seen a massive increase in popularity over the past several years as food quality and the equipment to prepare food in a parking lot or park has become more readily available and affordable. Customers now are lining up for their favorite foods - donuts, coffee, bagels, tacos, burgers and pizza – which are now served out of converted trucks.

Club Car's 411 offers solutions for food service and operations by helping resorts and universities deliver food across campuses for events.
In 2019, Club Car launched the Club Car 411 – a half ton all electric pickup truck that is a perfect solution for a food delivery vehicle. Campuses and companies needed a versatile, nimble vehicle to replace their gas or diesel pickup trucks. Prior to the COVID-19 pandemic, Club Car was seeing a trend in how food is being prepared and served outside of typical brick and mortar restaurants.
As the market is rapidly evolving, Club Car has partnered with Gallery Carts on customized options to help create food service solutions for open air and high traffic areas on campuses. Club Car has worked with Gallery for many years in providing food and beverage options with the Café Express on golf courses. Now, Club Car's 411 offers a solution for food operators at stadiums and universities to create a brand new line of food
411 Lunchbox
The 411 Lunchbox is designed to sell on-the-go meals in high traffic areas. Targeting customers who need a quick meal and equipped with double sided refrigerators, this vehicle can handle any customer who needs to grab and go.
411 Beverage Car
Nothing makes a sporting event or concert better than your favorite drink and no vehicle makes it easier to provide customers their favorite beverage than the 411 Beverage Car. Cold brew coffee, beer or wine can be offered to your customers from a flip of a tap. With up to four pressurized beverage taps, the Beverage Car can serve up any drink.
411 Bun On The Run
No sporting event is complete without a burger or hotdog. The Bun On The Run sports an integrated propane grill, condiment dispenser and ample refrigerated storage.
411 Toast & Roast
Mornings are hectic and breakfast can become an afterthought when rushing to work. With Toast & Roast you can provide busy commuters easy access to fresh bagels, breakfast and much needed coffee on busy mornings. Heated storage and refrigeration allows for vendors to provide any breakfast item and hot beverage.
411 Fan Van
Long lines at any sporting event can be a hassle for fans trying to score their favorite team gear. The 411 Fan Van solves this problem with abundant storage and vinyl graphics to advertise team merchandise. This vehicle can become the hub for jerseys, hats and fan gear at your next event.
411 Perk & Ride
Coffee is almost a necessity these days and this vehicle makes it even easier to fuel your customers. Equipped with four insulated pot dispensers, this 411 ensures no one goes through their morning without a fresh cup of coffee.
START SERVING TODAY WITH 411
Food delivery and preparation has never been easier with the Club Car 411 by Gallery. Increase your profits by adding the 411 mobile food delivery vehicles to your operations. Learn more by visiting the link below or contact us today.