Article 2:
WHAT TO LOOK FOR FROM A VENDOR WHEN PURCHASING A TURF UTV
Continue reading below...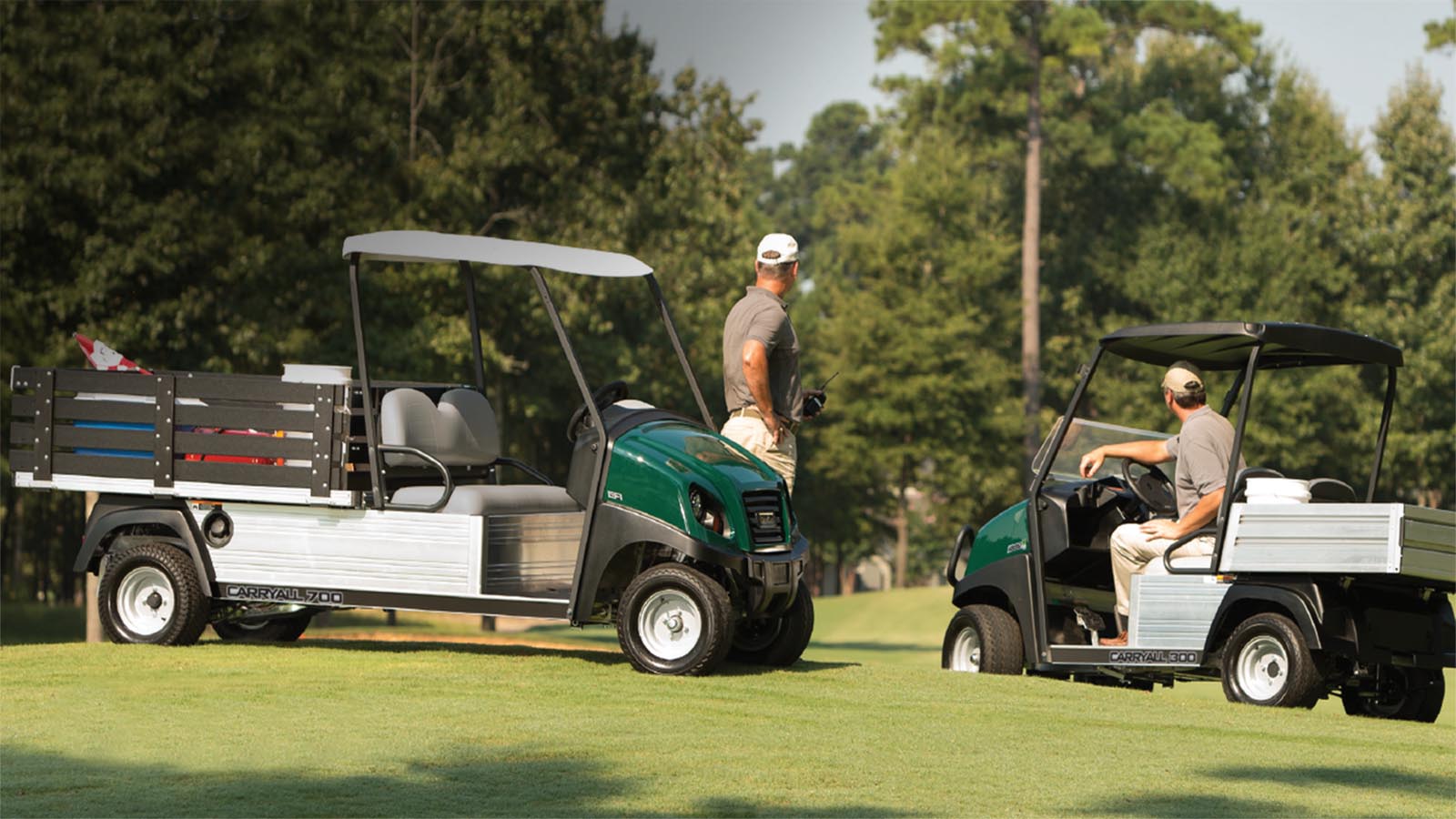 This is article 2 of 3 in our How to Avoid Buyer's Remorse When Purchasing a Turf UTV.
When you're searching for a new UTV, the vendor you purchase from is just as important as selecting the right fit model. Finding a vendor with trained transportation solutions experts can help you plan a more effective fleet and preempt problems in the years ahead.
What does a Quality UTV Vendor look like?
There are many important things your vendor of choice should already do or at least be able to do if asked. Make sure your vendor:
Sells a wide range of compact, mid- and full-size utility vehicles in both gas and electric models
Sells vehicles made in America, by a company with a network of authorized dealers who staff factory-trained technicians. You may wait months for parts or service on vehicles made abroad. That's no bargain.
Can compare and contrast the benefits of their electric and gasoline vehicles to others. Some gasoline UTVs get more than twice the gas mileage of others, and there are big differences in the performance of electric utility vehicles (learn more about this in part 3 of this series, Gas vs. Electric UTVs: Which is Best for Me?)
Offers service maintenance agreements from factory-authorized dealers who are insured, have easy access to parts, and enough service vans and trained technicians to meet your needs
Has a portfolio of work-oriented accessories such as tool and van boxes, ladder racks, dump kits, stake sides, integrated cabs, and more. Many manufacturers offer recreational accessories but few work ones. Yet the right accessories can cut costs and improve productivity on your course.
Operates an active custom solutions department that designs and manufactures vehicles for specific applications.
Two-wheel drive vehicles that accommodate an optional automatic limited slip differential, like this Carryall #, can work in areas usually reserved for 4x4s without damaging turf. Yet they cost considerably less than four-wheel drive vehicles. Add link to LSD video to electronic version.
Identify and Work with Trained Transportation Experts
At the same time you're looking at vendors, pay special attention to their sales professionals. They can help you:
Find solutions to specific transportation problems
Improve safety and reduce liability
Right-size every vehicle in your fleet
Cut training time
Give you a single point of contact if problems arise
Help stabilize your monthly fleet budget
Offer creative financing options, including lease options that may save you money over purchasing
Look for a knowledgeable and seasoned sales team that has worked on scores of courses and is familiar with creative solutions to common and uncommon problems.
Don't assume all sales professionals have this knowledge and experience. Some manufacturers, including Club Car, invest much more in training their sales forces, and maintain a more experienced staff than others.
Learn How to Work With Your Sales Professional
Once you've selected a vehicle supplier and sales professional, you'll want to leverage their expertise.
Form a committee comprised of course management personnel who understand your big-picture goals, mechanics with hands-on knowledge of utility vehicles, and your sales professional to review your existing resources and plan your new fleet. Work with them to:
Discuss any problems you're having regarding safety, sustainability, training, liability, maintenance or other issues up front
Identify any "target opportunities" to reduce utility fleet costs, downsize your fleet, or replace full-size vehicles with utility vehicles
Establish minimum safety requirements for every vehicle you purchase
Perform an audit to identify:

The various jobs your crews do
The vehicles they are currently using for each task
The number of crew members
Where the vehicles are driven
How many miles the car is driven daily
The maximum payload needed
Any special safety equipment they may need for certain tasks
Who will maintain the vehicle
Accessories that can boost productivity, such as extended range batteries, bed-based attachment systems, or automatic limited slip differentials
Any ways you may increase revenues or decrease expenses.
Any custom vehicles you may need for special applications
Have the committee inventory and determine the condition of your current utility fleet, vehicle by vehicle. That will help you decide which vehicles you need to eliminate, replace, or reposition.
Using this information, and working with your internal team members, your sales professional will right-size each vehicle and develop an effective overall fleet plan.
The plan should include safety equipment and accessories, pricing, leasing options, and detailed warranty information. It should also suggest eliminating full-size vehicles when appropriate, and factor in vehicle sharing among departments when feasible.
If you're interested in learning how Club Car can provide the solution for your need, start by building your own UTV fleet here!