Article 3:
GAS VS ELECTRIC UTV'S: WHICH IS BEST FOR ME?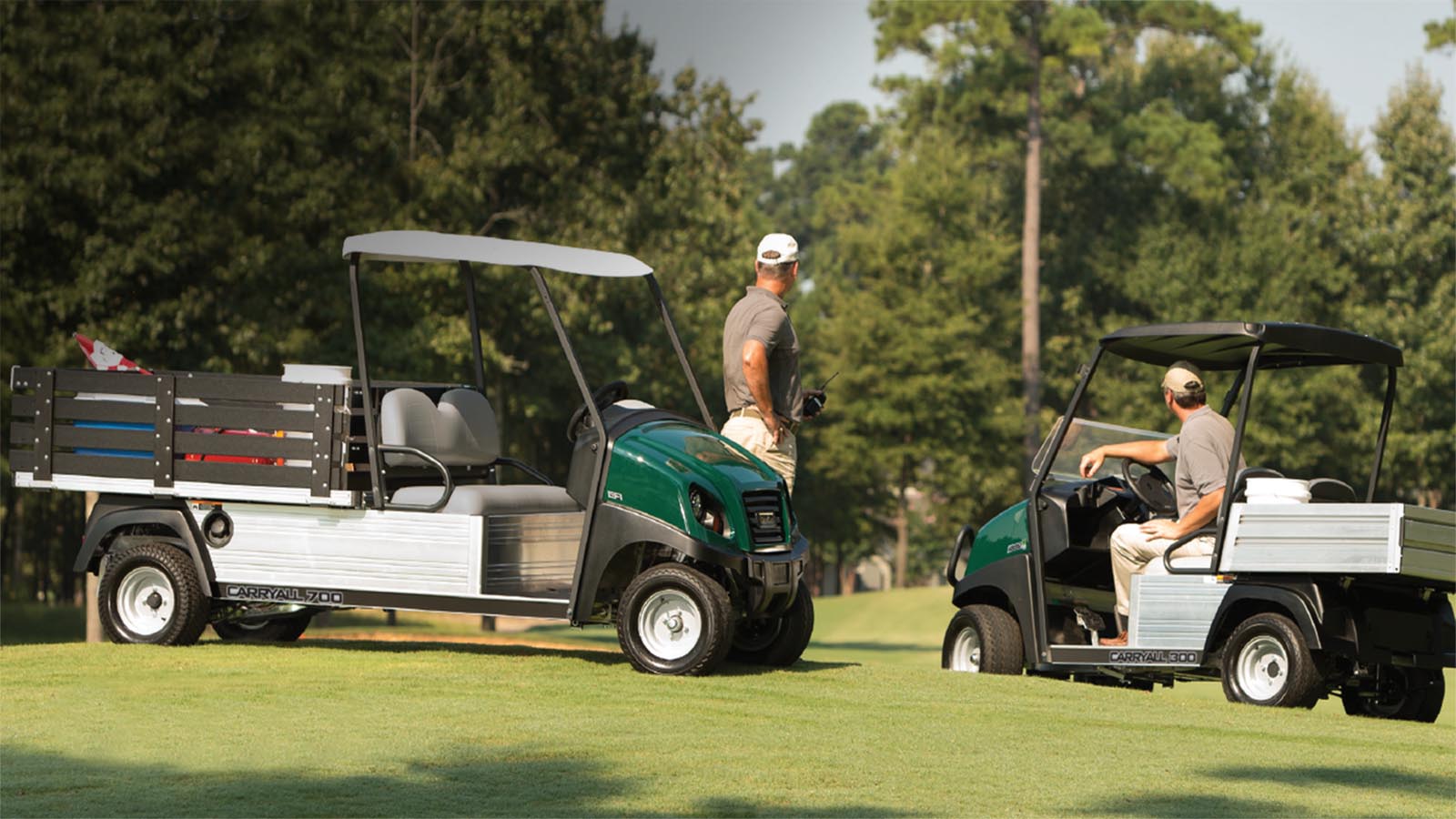 This is article 3 of 3 in our How to Avoid Buyer's Remorse When Purchasing a Turf UTV.
When determining what you need in your new utility vehicle fleet, it's important to understand the differences between gasoline and electric models. With these tips, you'll learn what to ask for, and ultimately how to determine which type of UTV is best for your needs.
What to Consider with Gasoline Models
Look for gasoline models with powerful name-brand, automotive-style overhead cam engines with electronic fuel injection (EFI), such as Carryall utility vehicles. They deliver better power, torque and hill-climbing ability than less sophisticated EFI engines or carbureted engines. What's more, carbureted engines are hard to start in cold weather, more difficult to maintain and less fuel efficient.
Ask about ease of maintenance, how the vehicle's preventive maintenance schedule differs from others, and if they have splash lubrications systems, self-compensating steering, and self-cleaning clutches.
Lastly, consider fuel economy and total cost of ownership, not just the purchase price. Some gasoline-powered utility vehicles, including the Carryall 500, get twice the gas mileage of some competitive models.
What to Consider with Electric Models
Electric UTVs are growing in popularity on golf courses, because they boost sustainability, and are quieter and less expensive to operate. But look for rugged vehicles with the range to do a full day's work.
You'll want vehicles with powerful motors, 500-amp controllers, hand-held diagnostics, and controlled downhill ability plus zero-speed detect to prevent roll away. Make sure they are available with optional extended range batteries that deliver a range of 50+ miles per day, as Club Car's electric utility vehicles are.
To prevent common user charging errors, select vehicles with smart onboard chargers. These will issue alerts to warn users of potential charging problems. Make sure the chargers are onboard the vehicle and have reel retractors, so your crews can take advantage of opportunity charging.
Make the Call!
Purchasing a new UTV seems like a simple task, but can easily spiral into a more detailed and confusing venture. Help make that process easier by working with our experts at Club Car, and you'll be making the right investment.
Explore how Club Car can provide the solution for your need. Start by building your own UTV fleet today!