UTILITY VEHICLES BUILT FOR COLLEGES AND UNIVERSITIES
Because your job well done leaves a lasting mark.
CUSTOM WORK VEHICLES FOR ALL OF YOUR TOUGH JOBS
You rely on your Carryall to perform day in and day out, from moving mulch for grounds maintenance, collecting waste for refuse removal, keeping your campus safe with security, or transporting student athletes in an ambulance after a game day injury.
Task after task, with little maintenance, less attention, and zero headaches, your work vehicle will be there with you.
SAFETY AND SUSTAINABILITY TO THE HIGHEST DEGREE
From refuse removal to security, you are tasked to find safe and cost-effective solutions to transport guests and materials around your campus.
We have a full lineup of transporters and utility vehicles purpose-built for efficiency and performance, no matter what the task. These quiet, zero-emissions electric vehicles cost pennies a day to operate but produce the same results as a small truck or van. Whether you are Grounds-keeper or a Transport driver, you can do your best work with Carryall.
CUSTOMIZE YOUR CAMPUS FLEET FOR MAXIMUM EFFICIENCY
Create more efficiency, boost productivity, and support your school's brand with a seamless appearance by partnering with a provider that aligns with your organization's goals and has the resources to help you meet them all under one roof.
THREE WAYS TO CUT VEHICLE COSTS ON CAMPUS
Looking for cost-effective solutions for on-campus transportation and utility? From the best buying approaches to vehicles specifically designed for campus use, our latest article shares the top three ways to save, without sacrificing safety or performance.
PLANNING NOW PAYS OFF LATER
Implementing a great campus transportation strategy is less complicated than you think. A little work up front can save you time, money, and hassle down the road. Read our latest article to check out the best ways to get started.
TESTIMONIALS: HELPING OUR
CUSTOMERS SUCCEED
PRINCETON UNIVERSITY
"AS WE CONTINUE TO FIND MORE SUSTAINABLE MEANS OF TRANSPORTATION, OUR ELECTRIC CARRYALL VEHICLES HAVE ALLOWED US TO BECOME MORE SUSTAINABLE WHILE DOING THE SAME AMOUNT OF WORK AS PICKUP TRUCKS. THE CARRYALL VEHICLES ALLOW US TO PULL DIRECTLY UP TO BUILDINGS AND ENABLE OUR TEAMS TO COMPLETE THEIR VARIOUS JOBS FASTER." - Robin Perkins, Business Operations Manager in Building Services at Princeton University
GRAND CANYON UNIVERSITY
"OVER THE YEARS WE HAVE CONTINUED TO ADD MORE CARRYALL UTILITY VEHICLES TO OUR FLEET AND THEY CONTINUE TO DELIVER. WE RELY HEAVILY ON THESE VEHICLES TO KEEP OUR CAMPUS RUNNING AND HAVE BEEN VERY HAPPY WITH THE DURABILITY AND RELIABILITY OF THE CARRYALL VEHICLES." - Michael Ledbetter – Fleet Manager at Grand Canyon University
CUSTOMIZED FOR YOUR CAMPUS
If you need a specific vehicle, our Custom Solutions department is ready to create the perfect answer for your challenge. Get started with our online configurator, then contact your local dealer for details on further customization.
MANUALS &
BROCHURES
Get more information.
LOCATE
A DEALER
Contact your nearest Club Car Authorized Dealer.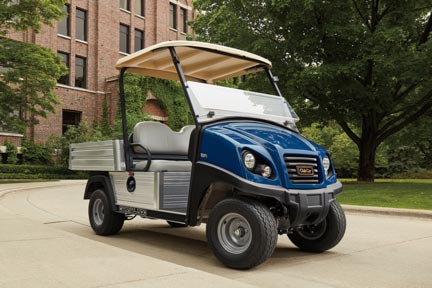 CARRYALL 500
VÉHICULE À TOUT FAIRE
Robuste et polyvalent, il est le meilleur choix pour ceux qui doivent accomplir des tâches polyvalentes.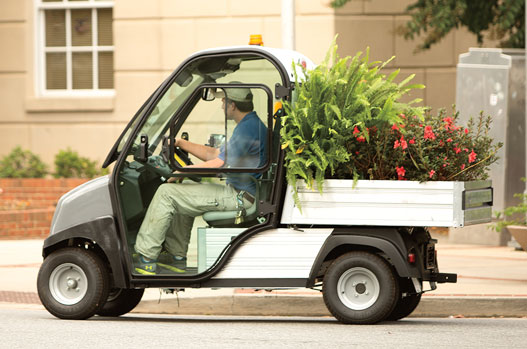 CARRYALL 510 LSV
EN ROUTE POUR PLUS DE CAPACITÉ
Ajoutez une plateforme offrant un volume important et obtenez un véhicule capable d'effectuer des tâches lourdes et de rouler presque n'importe où.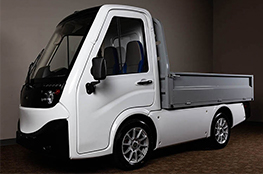 CARRYALL 411
BUILT FOR CAMPUS LOGISTICS
A compact, low-speed, and all-electric UTV.