FORMER EUROPEAN RYDER CUP CAPTAINS SHARE THEIR FONDEST (CLUB CAR) MOMENTS
Club Car's iconic red and blue Captains' Cars, each bedecked with patriotic branding and embroidered seats sporting the European and American flags, have been a mainstay of The Ryder Cup since the company became the Official Supplier for the European Ryder Cup in 1997.
Over the years, the important role that these cars play has been showcased in many of the Ryder Cup's most memorable images, such as those of Seve Ballesteros navigating the course and celebrating Team Europe's victory in his Captain's Car at Valderrama the last time the event was held in continental.
Following the conclusion of each match, Club Car presents each of the Captains with their own car as a personal memento of their role in The Ryder Cup, and as the countdown to the 42 nd biennial event continues, Golf Business News spoke to four former Captains about their fondest Captain's Car moments.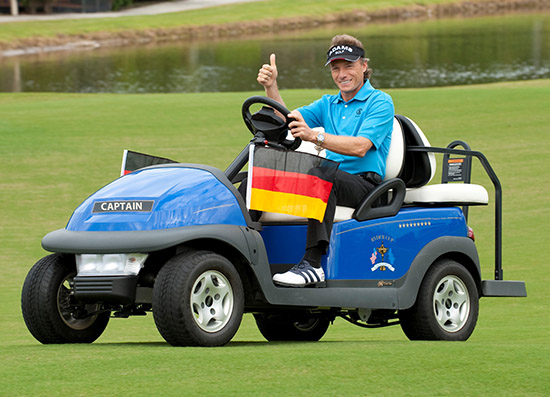 Bernhard Langer in his 2004 Captain's Car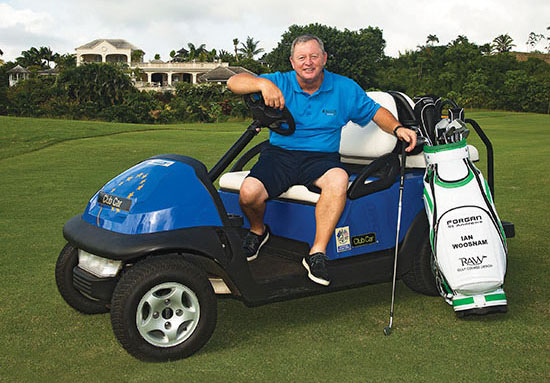 Ian Woosnam in his 2006 Captain's Car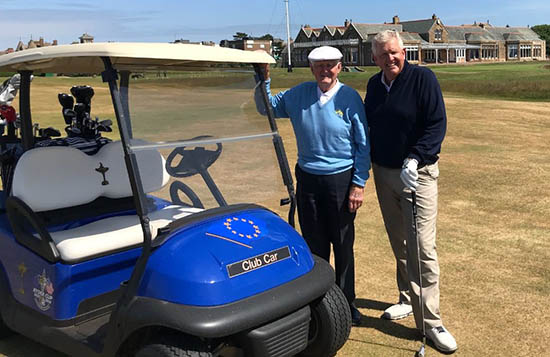 Colin Montgomerie in his 2010 Captain's Car
Sir Nick Faldo's Captain's Car is now at Bella Collina Club in Orlando, with the 2008 Ryder Cup Captain commenting: "My truest memory with the car was 'The Greatest' literally, when Muhammad Ali sat beside me and took photos with the team. To be in the presence of a champion, who at that point communicated only with fewest words and champion's heart, was a lifetime memory and had a true impact on me. So, every time I see that car I think of all that the Ryder Cup has meant to me. I think of Seve and Tony Jacklin, of partnerships and Muhammad Ali. I have no idea how many miles those wheels have travelled, but they represent lots in my journey of a lifetime with golf."
Former European Captain, Colin Montgomerie, said: "One of my most memorable moments from Celtic Manor in 2010 was sitting on my Captain's Car on the 18th fairway, surrounded by the team just after we had won the trophy. I feel very privileged to have been given such an incredible memento of my Ryder Cup captaincy. I get to see and enjoy it whenever I go home to play at Royal Troon Golf Club with my father and it still makes me smile every time I sit in it."
Ian Woosnam, the 2006 Ryder Cup Captain who led Europe to victory over the U.S. team 18½–9½ at the K Club in County Kildare, Ireland, commented: "Being Ryder Cup Captain was, without doubt, one of the highlights of my career and having my Captain's Car with me at my home in Barbados is a great way to remember driving the fairways en route to victory."
Bernhard Langer, the 2004 Ryder Cup Captain at Oakland Hills Country Club in Michagan, USA, said: "My Captain's Car is at my home in Boca Raton, Florida, and every time I see it it brings back so many great memories. The most meaningful memory from that seat during Ryder Cup week though is definitely watching the winning point unfold on Sunday as Colin Montgomerie secured it on the 18th green."
###
About Club Car
Club Car® has been one of the most respected names in the golf industry for more than half a century. The Club Car® product portfolio has grown to include much more than golf cars, now encompassing golf and commercial utility vehicles, multi-passenger shuttle vehicles, rough-terrain and off-road utility vehicles and street legal low-speed vehicles for commercial and consumer markets. For more information, visit www.ingersollrand.com or www.clubcar.com.