The Health Benefits of Tempo Walk
Tempo Walk Proves Fitness Benefits of Golf at Penn Oaks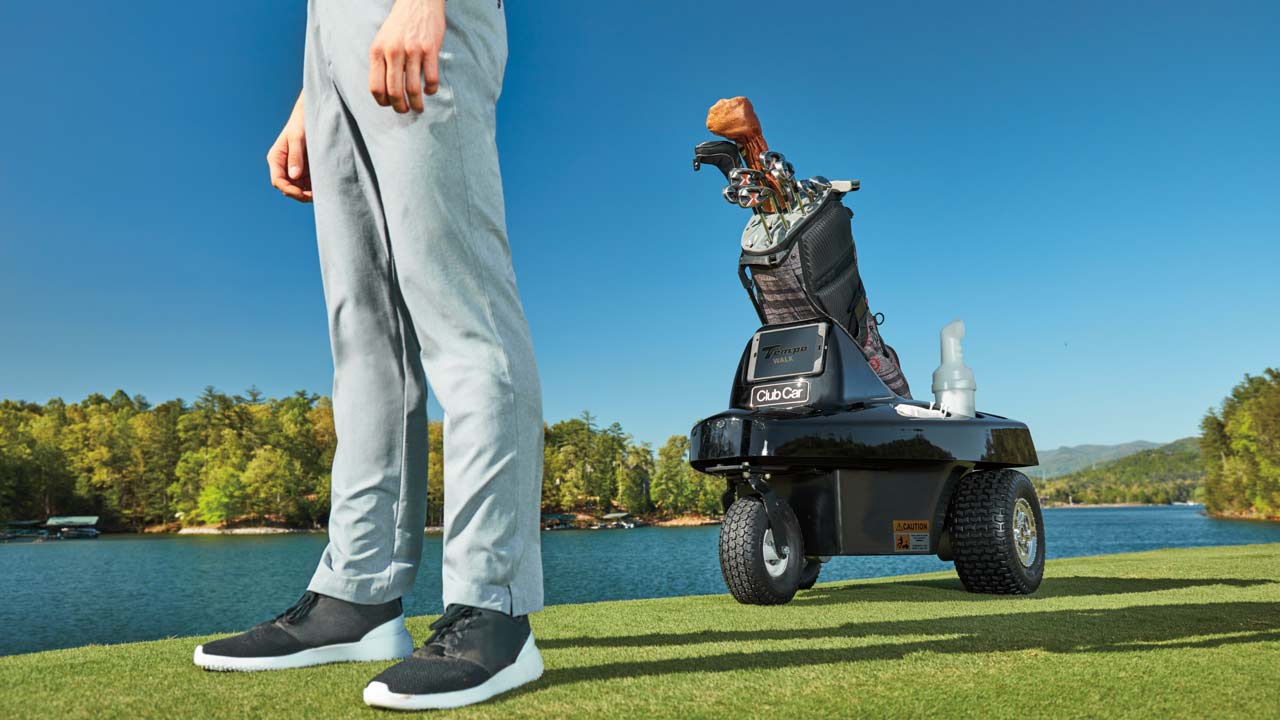 Tempo Walk continues to provide new experiences and fitness benefits for golf clubs and golfers around the country. Tempo Walk, Club Car's autonomous caddie, allows golfers to enjoy walking the course with a hands-free experience, GPS yardage and an integrated cooler all while carrying a golf bag.
A golfer on average burns over 1,000 calories walking a golf course. With the unique experience of Tempo Walk, golfers at Penn Oaks continue to turn to Tempo Walk for their rounds.
REAL WORLD RESULTS
How one man lost 115 lbs by using Tempo Walk, along with diet and lifestyle changes

Penn Oaks Golf Club, founded in 1965 is located in West Chester, PA and provides a championship 18-hole golf course on grounds once owned by William Penn. Penn Oaks placed a delivery of four Tempo Walk units in 2020 and the units have been extremely well received by members.
"The Tempo Walk units go out every day, twice a day and have created such a buzz around our golf club," said Harry Hammond, Director of Golf. "We have seen an uptick in membership since the arrival of the units and our golfers love the health benefits of walking our course."
During the COVID-19 pandemic, many people have turned to golf for a socially distant outdoor activity. Penn Oaks member, Rob Narkiewicz made a conscious effort to work towards a weight loss goal during the pandemic by walking more golf rounds. Aided by Tempo Walk, diet and three walking rounds a week, Rob has lost over 115 pounds.
"When walking the course with Tempo Walk, you are in your own game. You can enjoy the day, the golf course scenery, and get some good exercise. Plus, you can walk to your own ball instead of chasing it down with a cart!"

-Rob Narkiewicz, Penn Oaks member
TEMPO WALK CHANGES THE GAME
Small changes can lead to big results.
"My weight was catching up to me doing basic yard work and also, I was turning 50 in March of 2020. So, I started walking 3 to 4 holes at Penn Oaks and now I play at 3 times a week using one of the Tempo Carts and hitting balls on the range. I also starting taking lessons with Jesse Hallett and reduced my handicap by 10 strokes!"
Narkiewicz has lost 115 pounds with the help of Tempo Walk, diet, and lifestyle changes in 11 months. Congratulations to Rob Narkiewicz on this huge accomplishment and thanks for sharing your story!
ADD A UNIQUE EXPERIENCE TO YOUR COURSE
In addition to the fitness benefits of Tempo Walk, the autonomous caddy has provided Penn Oaks with a new experience for golfers and the investment has already paid off.
"Our golfers love the units so much, we are already looking to add more to the fleet," said Hammond.
ADD TEMPO WALK TO YOUR COURSE
Take advantage of capturing the revenue of walking golfers with Tempo Walk today. Contact your local Club Car representative or visit the links below for more information.