TOP TIPS TO MASTER FLEET RENEWAL
There's a lot riding on your fleet.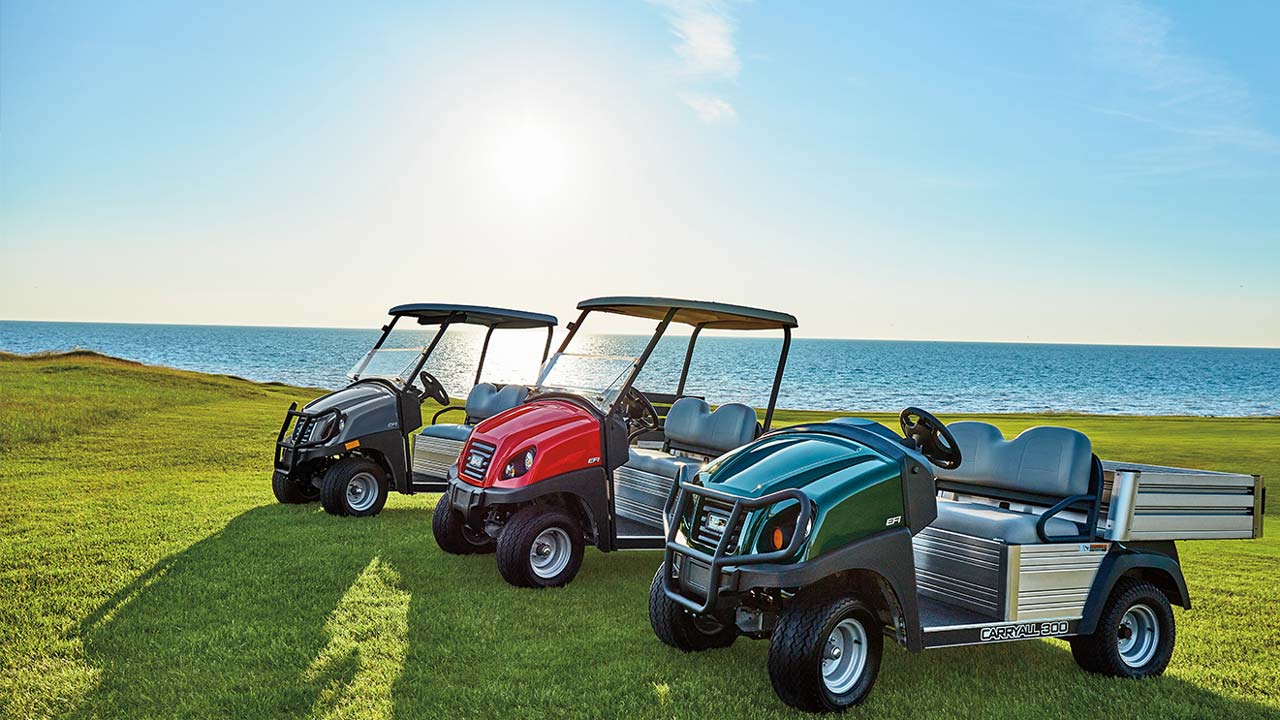 Car rentals are the second biggest source of revenue at most courses, making fleet renewal a big decision. But rest easy, these tips will help you choose a new fleet that simplifies operations, increases revenue, and improves the overall image of your course.
TIP : SET GOALS FOR YOUR FLEET
Making a three-to-five-year plan for your new fleet is essential. It's helps outline your expectations for operational costs, maintenance costs, and revenue.
Your goals should reflect the mission of your facility. A clean, safe fleet program should cover the costs of buying, operating, and maintaining the fleet. but how much more can you spend improving the overall experience and setting your course apart from the competition?
BONUS TIP Choosing between gas and electric is a big choice. You must think through the balance of cost and convenience, as well as how important managing an environmentally friendly fleet is to you.
TIP 2: KNOW YOUR GOLFERS
There are many variables to look at when choosing a new fleet that's guaranteed to satisfy your golfers. Stepping into their shoes, you can understand their needs and wants to keep golfers coming back.
How many cars do I need?
It's not a simple equation, but thinking about things like the fitness level and age of your golfers; the size, layout and climate of your course; and what your peak seasons look like can help.
What add-ons do my golfers want?
Certain add-ons can be distracting to the game, but most can help enhance it for many of your golfers. How much equipment do they have? Do they drink or eat during play? Are they looking to stay connected on the course? Answering these questions can help you offer relevant options to your golfers.
BONUS TIP Some courses involve their most loyal customers by asking them to participate in surveys and even test drive new model options.
TIP 3: KNOW YOUR REP
Your rep is your partner-he or she is an extension of your team. Walk your rep through your fleet plans and customer expectations. He or she can then help match your needs and budget to the best options available.
And don't forget to stay open-minded. You may have your eye set on a functional fleet, but nicer cars mean higher rental rates and standing out from the competition. The newest add-ons from Club Car may seem like perks to golfers, but they are actually proven to increase revenue in the long run.
BONUS TIP Always ask your rep for the latest deals and promotions.
TIP 4: KEEP YOUR NEW FLEET IN TOP SHAPE
This is a fresh start. By keeping your new fleet in the best cosmetic and mechanical condition, you can keep cars in service, increase safety, and receive a higher trade-in value.
Here are a few simple ways to maintain your fleet:
Properly train your staff on the whys and how's of fleet care
Get the right tools
Perform periodic inspections and maintenance
Properly store cars
Keep cars clean
Keep good records
BONUS TIP: Club Car Fleet Maintenance offers regular care plans to help keep your fleet in top condition - taking a big task off your to-do list.
GOODLUCK!
And make sure to reach out to your Club Car rep with any thoughts, questions, or concerns.