Tempo Lithium Ion: The Second Generation
How Club Car's new vehicle is changing the game.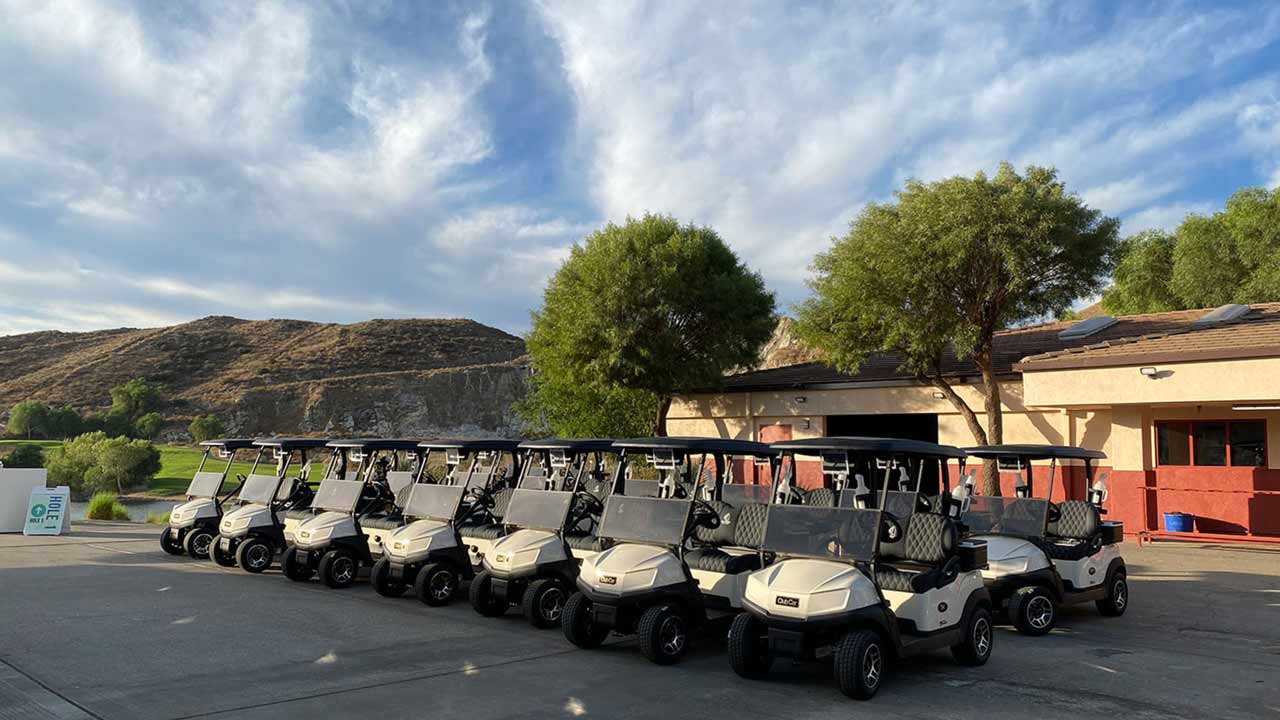 Club Car's new second generation Lithium Ion power-train has started hitting the course. The Tempo Li-Ion vehicle provides best in class range, performance, and safety while delivering a lower total cost of ownership. The new AC Li-Ion battery system ensures golf course operators have confidence in achieving 36+ holes on one charge.
In addition to superior range, the Club Car Tempo Li-Ion battery requires minimal maintenance when compared to flooded lead acid (FLA) batteries. Lithium Ion batteries last longer (Figure 1, below) and can save golf courses up to 50% in electricity costs.
SMART TECHNOLOGY. SUPERIOR RANGE. UNRIVALED SAFETY.
The automotive designed Li-Ion battery system includes an industry-exclusive Vehicle Control Module that allows for remote diagnostics and over-the-air software updates which ensures your fleet is ready for golfers every day. High-performing and packed with the latest technology, Club Car Li-Ion golf carts save time, increase car reliability, and conserve energy to improve the overall performance of operations. When it's time to power up, the fast charging times and ability to hold a charge across multiple rounds keep Li-Ion powered cars on the course and out of the barn.
OAK QUARRY
Oak Quarry recently received a new fleet of Club Car Lithium Ion vehicles. Oak Quarry is an 18-hole, 72-par championship course, designed by Dr. Gil Morgan/Schmidt Curley Designs. The CGCOA's 2011 Course of the Year winds through the picturesque jagged terrain of the historical Jensen Quarry.
"The Club Car Lithium Ion vehicles have been a great addition to the club. The performance and reliability of our vehicles is extremely important to ensure golfers enjoy their round, knowing the Tempo Li-Ion can easily tackle 36 holes was a big factor for our club." -Kyle Adams, General Manager at Oak Quarry.
Indian Hills
Indian Hills Golf Club also made the switch to Lithium Ion Tempo cars this year, Indian Hills is located in Riverside, CA, opened in 1964 the Jimmy Powell and Harold Heers designed golf course providers golfers with a challenging par 70 course that has spectacular elevation changes and incredible views of the Riverside County foothills.
"We have been really pleased with the performance and range of our new Club Car Lithium Ion fleet. The increased range has been a welcomed addition and the reduced maintenance is something we are very excited about." -Jim Marabella, Director of Golf at Indian Hills.
Bella Collina
Bella Collina added Club Car Lithium Ion vehicles to the course in November 2020. The 27 hole Gary Player designed golf course facility provides golfers with a traditional Scottish seaside links experience in San Clemente, CA. With 27 holes and large elevation changes the new Club Car Lithium Ion vehicle was a perfect fit.
"The superior range of the Club Car Tempo Li-Ion vehicle was the deciding factor for us.In addition to the great range, not having to water the batteries and the minimal maintenance on the vehicles allows us to focus our efforts on our members and golf course." -Jay Pesicka, General Manager and Course Superintendent of Bella Collina
Club Car Lithium Ion Features and Benefits
Zero Maintenance Battery
Set and Forget Extended Storage
Over-the-air (OTA) Updates - Maximize operational efficiency and minimize downtime when your fleet is connected with Club Car Connect
Vehicle Control Module (VCM) - Increase vehicle uptime and reduce labor time. Real time health status of vehicle helps identify issues before they arise.
Handheld Bluetooth® Diagnostic Tool - Maximize vehicle up time. Quick serviceability keeps your fleet running by analyzing and configuring all electrical subsystems with one simple tool.
See how to get Li-Ion now - to provide best-in-class range and performance on your course by visiting the links below or contacting your local Club Car dealer.