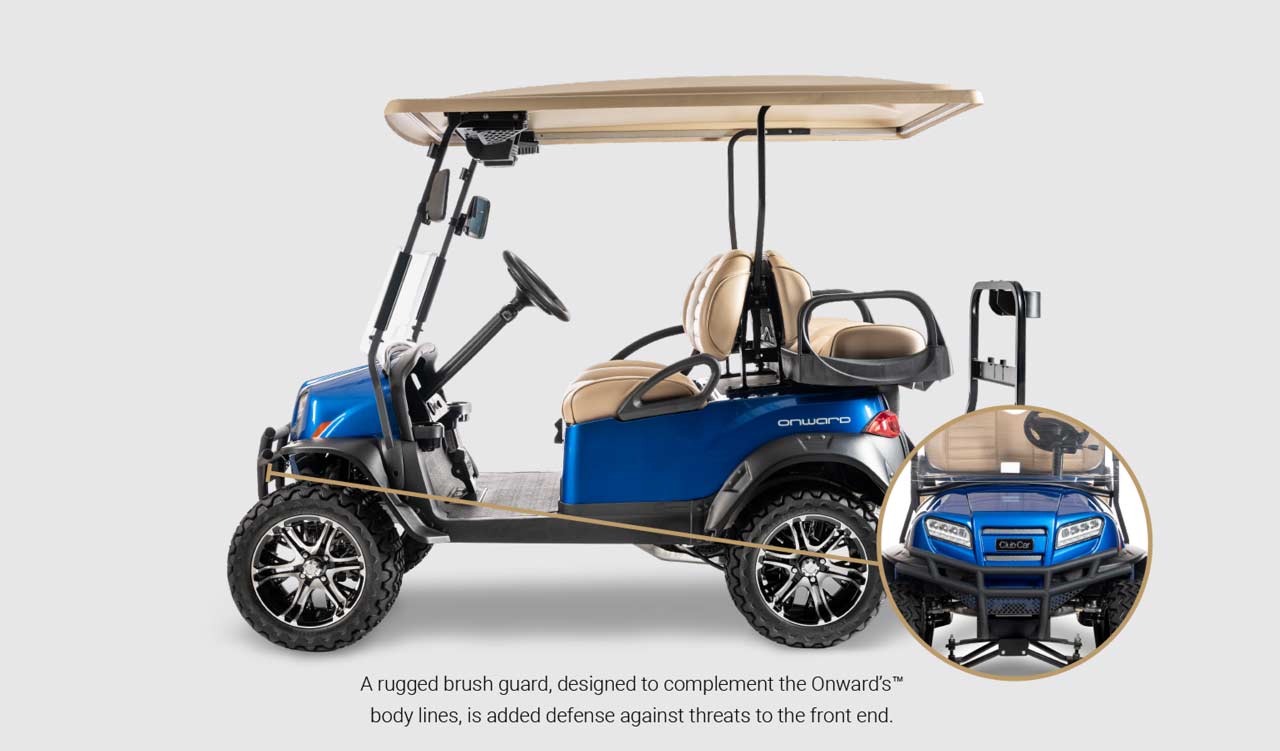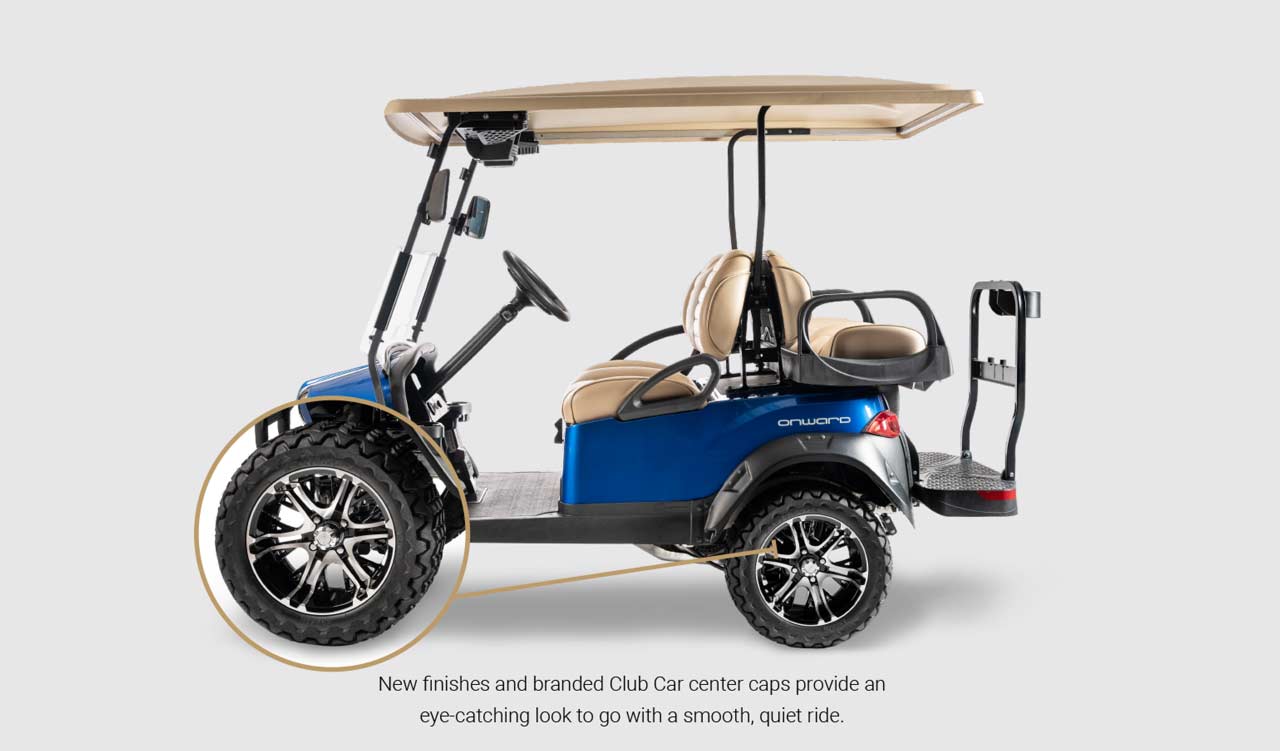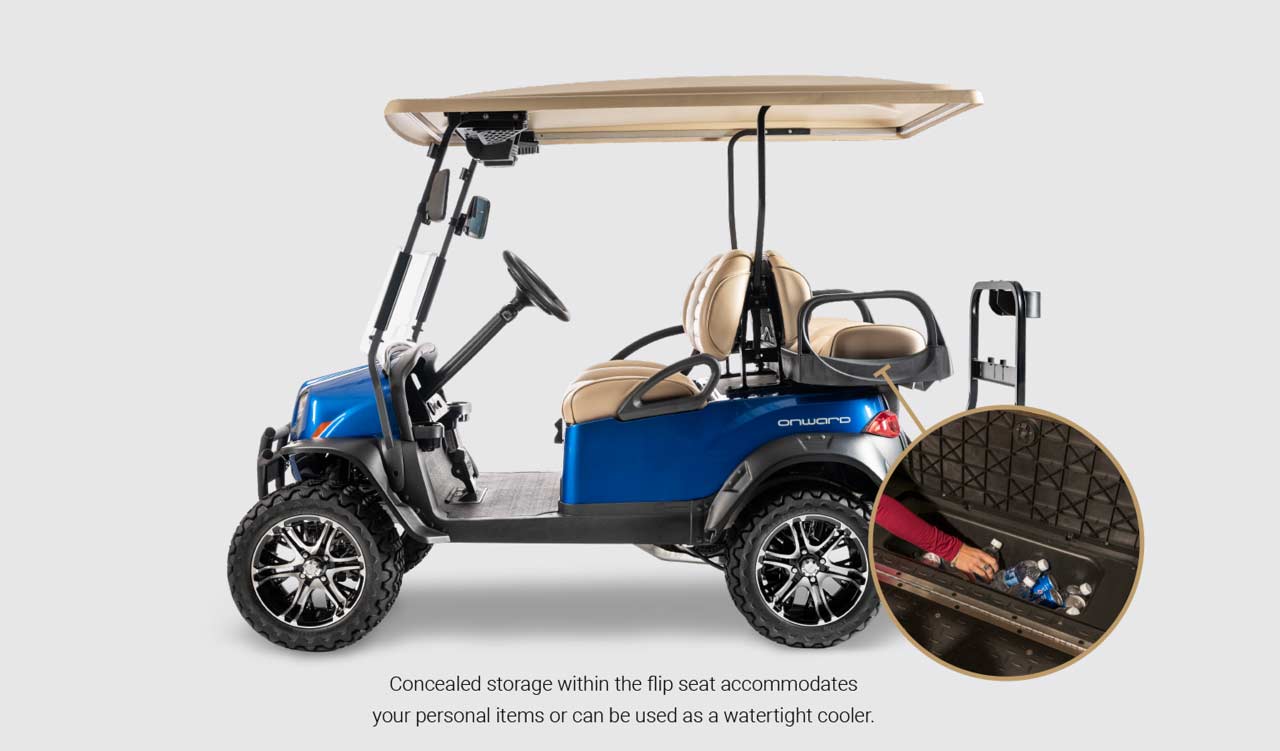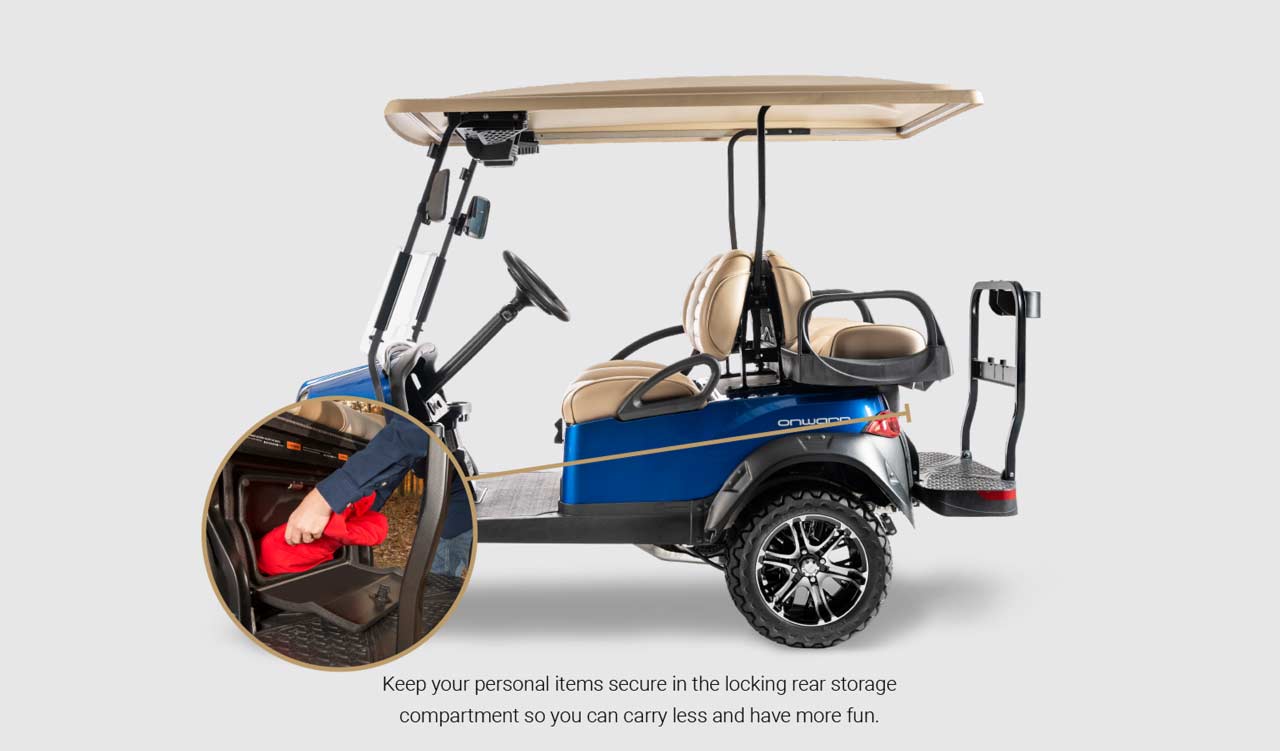 CUSTOMIZATION
Your car can be built to your specifications and preferences with completely customizable options including color, seats, wheels, windshields, canopies, and everything in between, there are hundreds of ways to personalize your Onward.
DURABILITY
As one of the only personal transportation vehicles constructed from an aluminum frame, the Onward is uniquely resistant to the elements. Plus, our metal flake paint and UV-tested components are specially formulated to resist fading.
COMFORT
Feel the difference in Club Car performance. Unique style, comfort grip, and enough leg room to enjoy your ride and driving experience.
STABILITY / HANDLING
On select Onward® models, an exclusive stability bar under the axle minimizes lateral wheelbase movement for greater confidence during turns.
LIGHT UP YOUR ADVENTURE
Standard LED headlights, turn signals, and running lamps light your drive, make you more visible to traffic, and help to keep the fun going after sundown.
REAR FLIP SEAT
Room for four to enjoy the ride. The rear seat also flips out to reveal a rugged bed texture and space for moving your favorite gear. Engineered products that work hard to make everyday life better.
SMOOTH RIDE
Our new Morpheus tires are smooth and quiet. With a sleeker tread, the Morpheus tire is perfect for fragile golf turf and neighborhood roads.
POWER. TECHNOLOGY.
AC DRIVE.
Our high-performance vehicle provides you with impressive torque and acceleration, with smart technology that will assist you in making sure your vehicle is always healthy and ready to drive.
Integrated power management allows you to worry less about the life of your battery and focus more on your next adventure.
With multiple acceleration modes available, your dealer will configure the Onward HP to the experience you're looking for.
ONWARD HP LI-ION.
High-powered motor and electronic controller improve hill-climbing speed, performance, torque, and efficiency.
Maintenance-free battery with six-year warranty for added peace of mind.
Three dealer-programmed drive modes for personalized performance. Choose between Econ, Normal, and Sport modes at the time of purchase.
MAKE IT YOURS
Your Onward® is completely customizable. Choose premium colors, seats, accessories, and wheels to make your golf cart feel totally unique.
电动车辆
HP
HP LITHIUM
汽油车辆
发动机

不适用
375 Amp DC
Motor Controller
375 Amp DC
Motor Controller
429 cc Kohler, Overhead Valve (OHV) with EFI
功率

3.3 hp (2.4 kW) 额定功率;
峰值功率 13 hp (9.6 kW)
22.4 hp (16.5 kW) Peak
29 hp (21.4 kW) Peak
14.0 hp (10.3 kW)
(额定值,3600 RPM 时),符合 SAE J1940
电池

(6) 个 8 伏特
(6) 个 8 伏特
58V Lithium-Ion (1)
一个 12 伏特
充电器

E.R.I.C. 自动、48 伏;通过 UL 和 CSA 认证
E.R.I.C. 自动、48 伏;通过 UL 和 CSA 认证
48V 650W HF Li-Ion
(Shelf / onboard);
48V 900W HF Li-Ion
(Shelf only)
不适用
速度

19 mph (30 kph)
19 mph (30 kph)
19 mph (30 kph)
19 mph (30 kph)
燃油容量

不适用
不适用
不适用
6.0 gal (22.7 L)

电动车辆/ HP/ HP LITHIUM
汽油车辆
转向

SportDrive™ — 自动补偿二级减速
螺旋 齿轮和齿条

SportDrive™ — 自动补偿二级减速
螺旋 齿轮和齿条
前悬挂
独立宽距双 A 臂,
带液压减震器
独立宽距双 A 臂,
带液压减震器
后悬挂

(正在申请专利)带推力杆,
汽车级弹簧减震器
(正在申请专利)带推力杆,
汽车级弹簧减震器

电动车辆/ HP/ HP LITHIUM

汽油车辆
制动器

自调节式、
后轮机械鼓刹

自调节式、
后轮机械鼓刹
驻车制动器
脚踏式,
3 位置
脚踏式,
3 位置

电动车辆/ HP/ HP LITHIUM

汽油车辆
车身和面饰


前: 带油漆 TPO;
后: 带油漆 Surlyn


前: 带油漆 TPO;
后: 带油漆 Surlyn

轮胎

22 x 10 - 10,无内胎


22 x 10 - 10,无内胎

LxWxH

114 x 49 1/2 x 80 1/2

114 x 49 1/2 x 80 1/2

轴距

67 1/2 inches

67 1/2 inches

离地距离

6 3/8 inches

6 3/8 inches

前后轮距

前/后: 40 3/4/39 1/2

前/后: 40 3/4/39 1/2

全车重量

1125 lb/ 1125 lb/ 895 lb

875 lb

框架类型

AlumiCore™ — 梯形
铝箱型梁
AlumiCore™ — 梯形
铝箱型梁